Lavey Parish Newsletter, Articles and information.
The family of Fr. Brian O'Donnell express our deepest, heartfelt appreciation for the sincere deepfelt expression of sympathy and very generous support on the death of our dear Uncle Brian, Fr. Brian, Parish Priest of the people of Lavey (1989 - 2010), whose first anniversary occurs today. Our special thanks to the Diamond family, in particular Sinead for her tireless care and patience; to the McGill family, to Fr. Eamon Graham, continuously a champion of his predecessor, to Fr. Paddy Doherty (Maghera) and to Bishop McKeown. Our special thanks to the staff of Milesian Manor, in particular Shannon McKaigue, Anthony and Sevlon - their care and devotion always remembered and deeply appreciated. Our thanks to the staff, boys and girls in St. Brigid's Primary School, to the boys, girls, men and women of Erins Own GAC. Our thanks to each and every one of the very good people of Lavey - a parish of courage, love and respect. Our thanks to the excellent work and support from Mickey and Nicky Gormley of J.A. Gormley, Funeral Directors, Maghera. The thousands of quiet, effective words that have passed are his legacy of love and care. 'And now these three remain: faith, hope and love. But the greatest of these is love.' St. Paul, 1 Corinthians 13:13.
A First Anniversary Mass will be said on Sunday 29th May at 11 am in St. Mary's Chapel, Lavey 'Onwards and upwards' .and that for the Derry teams that day too! Fr. Brian would wish it so!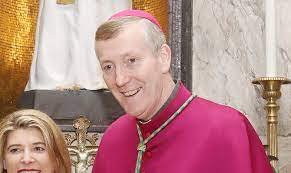 World Meeting of Families 2022
French nun Sister Andre, 118, claims title of world's oldest person - France 24
Chapel Webcam best viewed directly click here from ITech Website (Company who manage chapel webcam) - Bookmark to return easily every day.

Queen of the May - Maureen Hegarty
Parish Bulletins of Ireland - Aghagower Co Mayo
Easter Sunday outdoor 5.30am Mass - Wet Wet Wet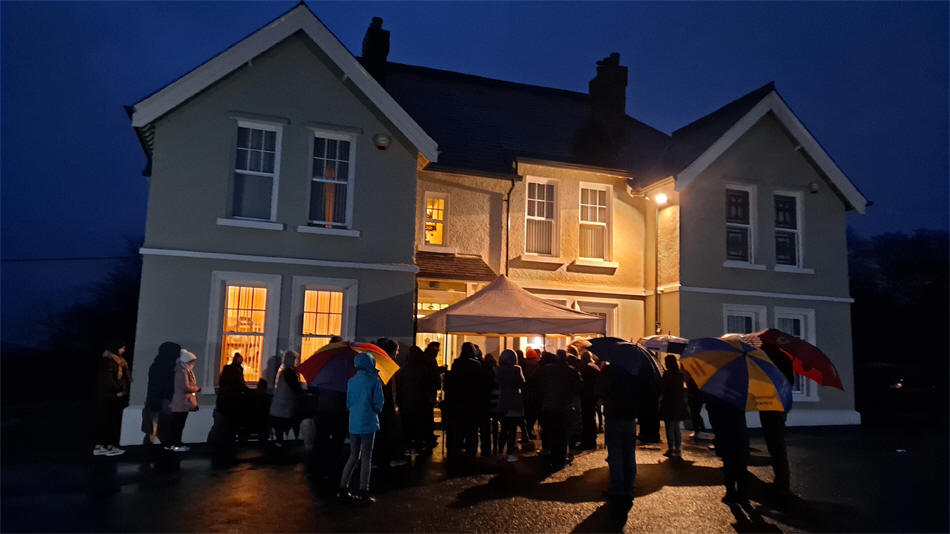 Way of the Cross 2022
Confirmation 2022
What makes the image of Our Lady of Guadalupe so mysterious - Courtesy of EWTN and CNA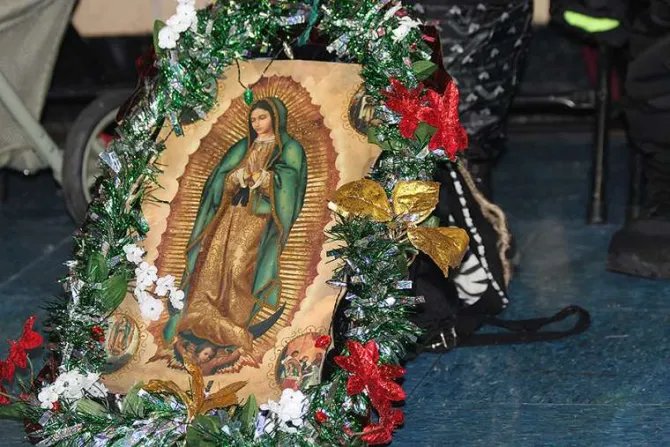 Have you thought of using your mobile phone or tablet as a prayerbook during Mass. The Missalette for Sunday is currently updated weekly on the parish website here. There are numerous websites offering prayers and one site offers daily Mass reading here for a small fee. The Parish website also has some prayers and links on this page.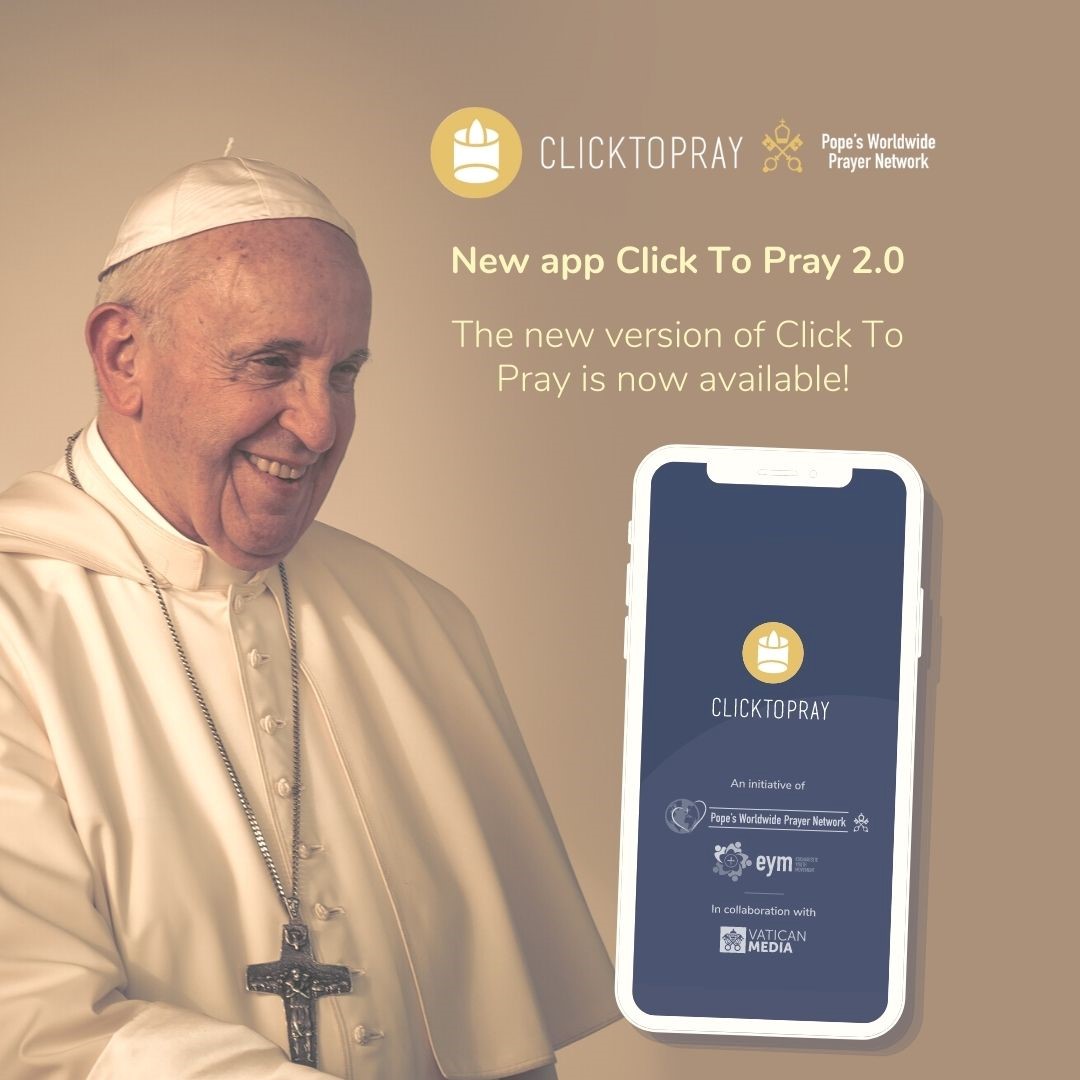 Archdiocese of Dublin introduces cashless payments - CatholicNews.
How 'Mass Rocks' are renewing the Faith in Ireland - The Tablet
The Funeral of Fr B O'Donnell former PP Lavey 1989 - 2010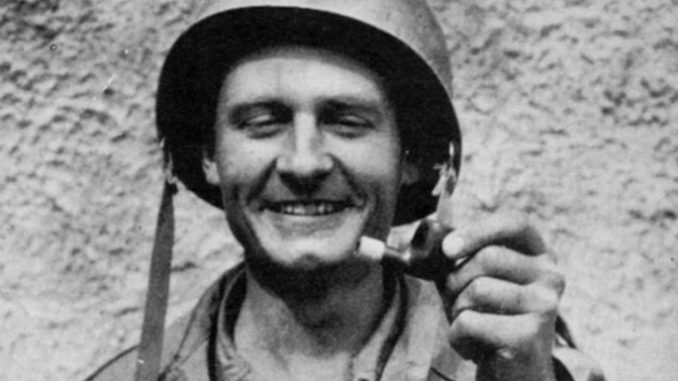 First Catholic Monastery in Tajikistan - AsiaNewsit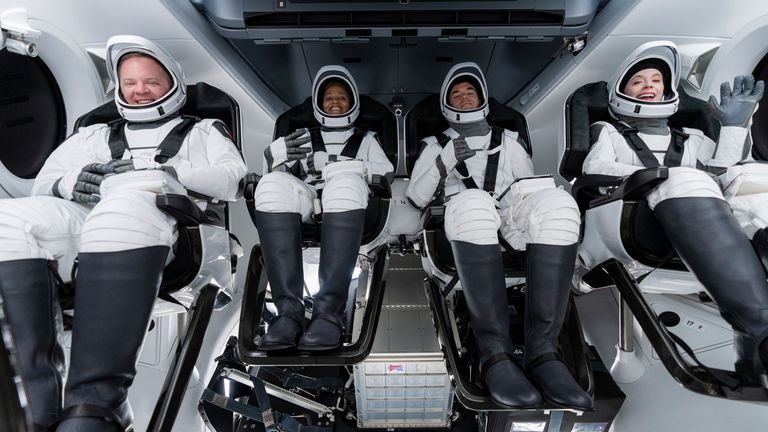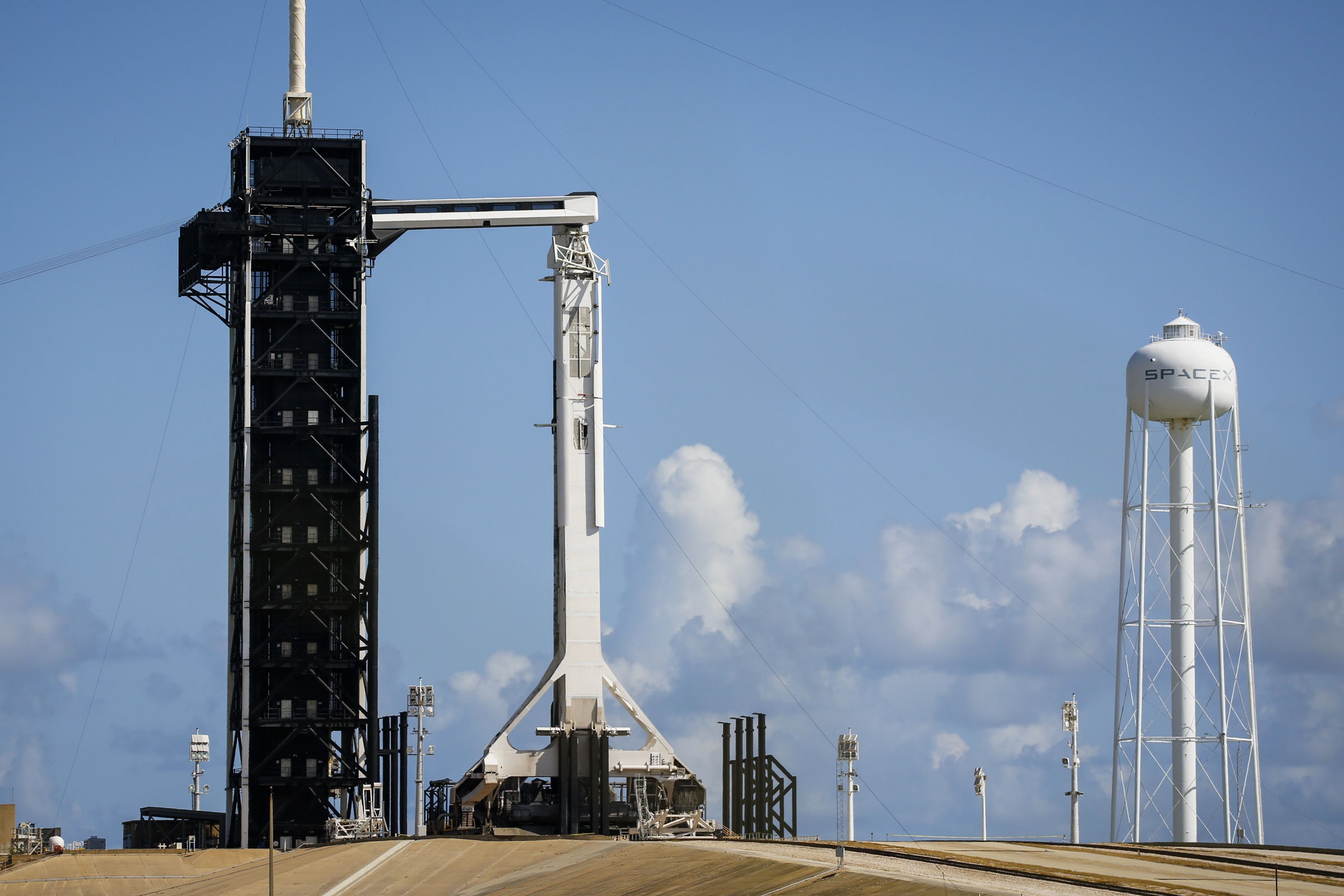 I would'nt say my cooking is that bad, but if I leave the back door open, the mice run out - LM

Catholic Media facebook pages
Trócaire donations at risk due to Covid-19 restrictions
The Lavey Parish Website was already on the World Wide Web in 1998.
It was initially called Mayogall but was later changed to Lavey Parish.
Below is a snapshot from the Internet Archives Wayback Machine Web Crawler.
The Parish Website below, was just a plain page with some hyperlinks..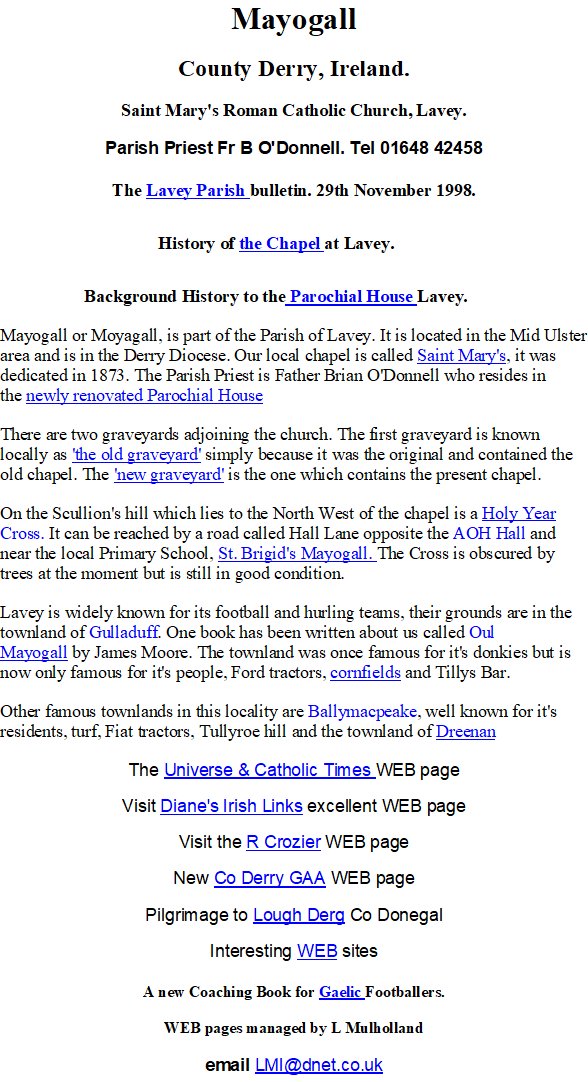 Catholic Saints facebook pages
Catholic Shrines Facebook Worldwide
Dia de los Muertos - Day of the Dead - Mexico
New stained Glass windows at Our Lady's Altar blessed by Fr Graham PP 17th October 2020.
Catholic social teaching has values the world needs, Dominican says
Site of Jesus's miracles may have moved over time - The Jerusalem Post
New stained glass fitted at Our Lady's Altar.
Point and click to enlarge.
Fr Graham PP Lavey Parish, blesses Statue of St Therese Friday 2nd October 2020 ad.
Balloonist admires Chapel and Spire
Alpha Glass install stained glass at Virgin Altar Thursday 1st of Octor 2020 ad.
The 6th Station from Lough Derg was streamed live from the Chapel on May 30th 2020 at 3am.
Knock Shrine - Online Pilgrimages
Defibrillators near Chapel
A defibrillator is a device that gives a high energy electric shock to the heart of someone who is in cardiac arrest. This high energy shock is called defibrillation, and it's an essential part in trying to save the life of someone who's in cardiac arrest
Play School
St Brigid's Primary School
Bahrain inaugurates Cathedral of Mary Queen of Arabia - Vatican News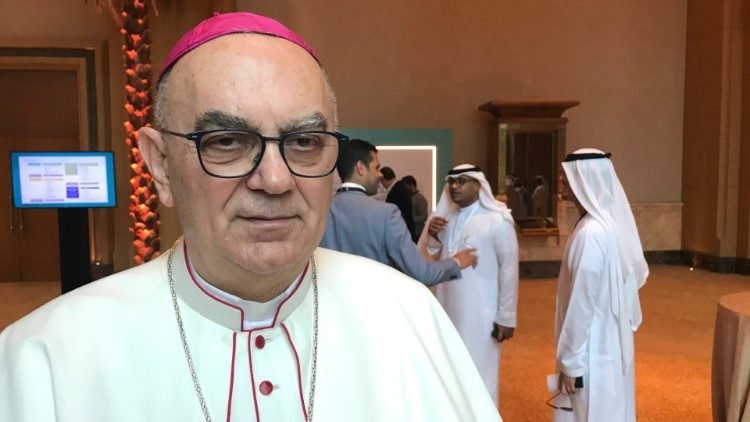 1919 parochial Insurance Document - with thanks to Denis Broderick.
Oh Mary this London's a wonderful sight
Called to religious life: A brother's vocation story
-------------------------
Saint Blaise. Believed to have saved Dubrovnik.
You may recall this photo of b
ig bale silage making in Mayogall with the new Chapel and Spire in background. Young farmers, Ben, Eamon and Edward who made these bales, recently showed me coloured stones found after the bales were fed to their cattle. These pebbles have probably come from the graves in the nearby churchyards. Owners have recently had to take measures to prevent birds from taking them for whatever reason and then dropping them in the local fields.
Sample of stones found in round bale silage.
Poor Clares of Galway release song called 'Calm the Soul'.
Click to hear and see song on YouTube
Parishoners have noticed some curious marks and a plate along the bottom edges of our Chapel since the intensive renovation cleaning of the stonework.
Apparently these are called benchmarks and are to do with Ordnance Survey but are no longer in use. I will leave the reader to do the usual google searches for more info.
The first is at the entrance gate to the Chapel at the corner where apparently a stairway led to an underground store ( So I am told)
The second is a metal plate bearing the letters OS and BM with the number 3578. It is at the East side main altar corner near the distinctive Fr O'Kane grave at the roadside.
The parish does not have any info or history about when these were placed on the chapel.
Distinctive Rebellion in Lavey - Greta strikes 2019.
St Francis of Assisi Basilica Live Cam
Mission stalls Lavey, possibly 2006.
Congress in March about women in church - Catholic News